Esta es una reproducción de un hilo publicado en Twitter sobre el anáisis de noticias en portadas online del 9 de abril de 2018):
Para poder analizar las portadas de los último días he descargado cada hora el html de la portada de cada periódico con storytracker.
Está disponible el código para procesar los html de las portadas online con R (llamado HomePageX, en honor a PageOneX).
Too long & do not read Spanish: How to parse and make the visualizations based on the archive of digital home pages built with storytracker: R code available.
Bueno, por fin puedo ponerme a contar noticias de Cifuentes en portada de los periódicos digitales. A ver qué sale:
Para poder el porcentaje de noticias sobre Cifuentes en portada necesitamos saber cuál es el total de noticias en cada momento (cada hora) en cada periódico: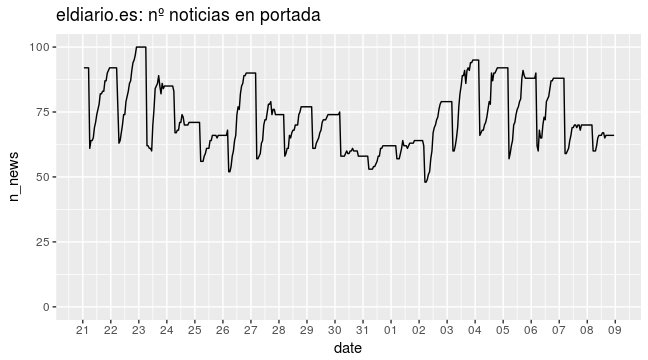 Después hay que contar los titulares en portada de las noticias que contienen "Cifuentes" (y palabras relacionadas con el caso de su máster) para un periódico. Ejemplo con eldiario.es: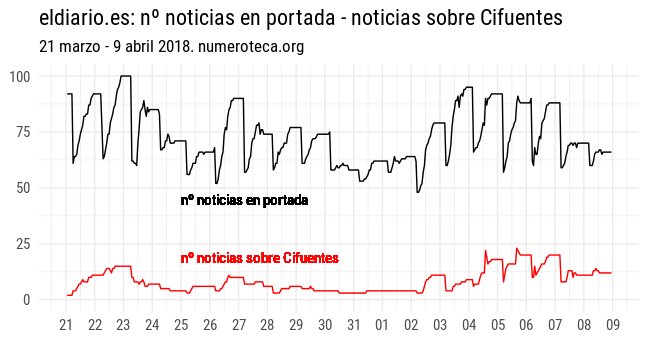 Para hacer el cálculo del número de noticias se han elegido todas aquellas que incluyen una de las siguientes palabras o grupos de palabras en su titular: "Cifuentes|Javier Ramos|Enrique Álvarez Conde|Pablo Chico|María Teresa Feito|Alicia López de los Cobos|Cecilia Rosado|Clara Souto|Amalia Calonge|Universidad Rey Juan Carlos".