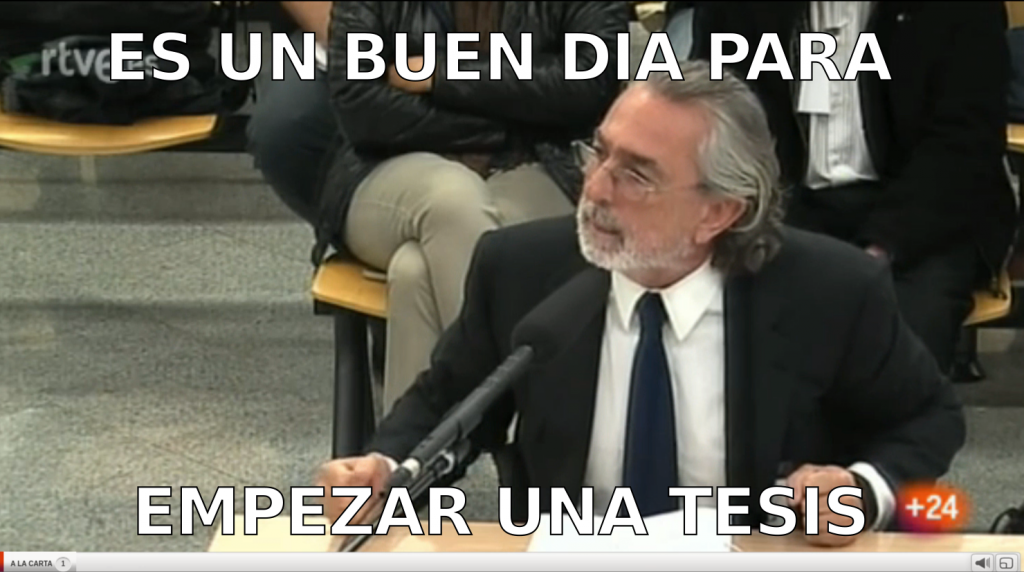 Justo ayer, el día que empezaba a declarar Correa en el juicio de la primera época de la Gürtel, me ha llegado la noticia. Ha sido aprobado el proyecto de tesis y plan de investigación "The color of corruption coverage in Spain" (descarga el pdf) que presenté en mayo. Así que ya soy oficialmente doctorando. Sólo me queda hacer la tesis. Correa es el acusado clave de la trama y por el que toma nombre el caso Gürtel, que es "correa" en alemán.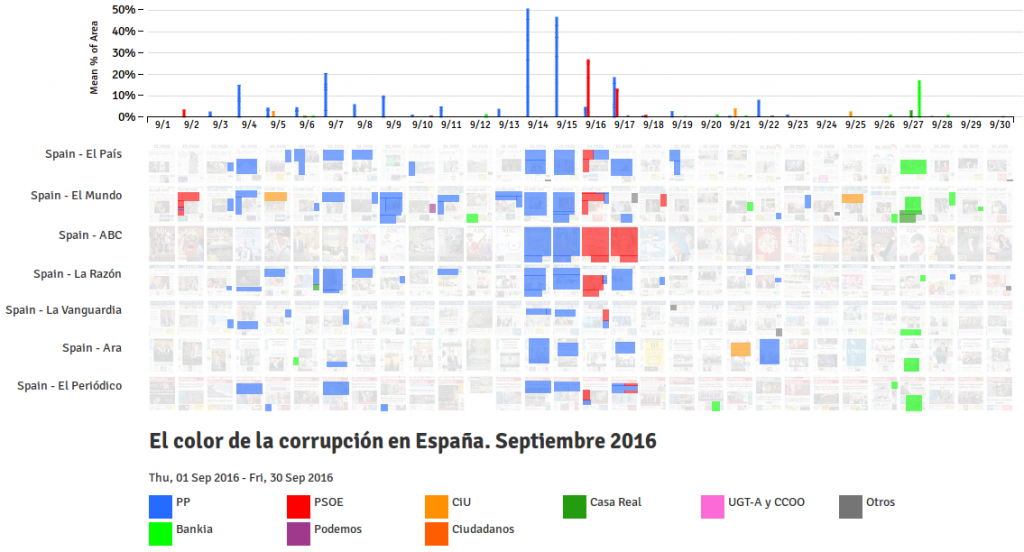 Ahora un resumen de los últimos acontecimientos en cunato a la tesis se refiere.
Data gathering in the age of information
It's been a busy week. Almost all the tasks are related to data gathering: tweets, front pages or video streaming. It is interesting how non trivial is to gather all the different information flows that surround as.
Answers from reviewers to the thesis research plan
The research proposal has had been approved with no conditions by my thesis committee and one anonymous reviewer. Here you can download the document: The color of corruption coverage in Spain. Agenda setting in a polarized media ecosystem. I need to examine and review the suggestions that I list below (thanks reviewrs):

Hypothesis too general
"hypotheses are too general. Here is my recommendation: the candidate defines the hypothesis thinking on the connection between the dependent and independent variables".
Operationalization of variables and independent variables
"The candidate will use three types of data, one related to front-pages of print media, another with the information about twitter, and public opinion. To do that the candidate not only will follow existing methodologies but will also use pageonex.com (elaborated by the author). Here it will be relevant to know something else about the operationalization of variables. I guess the unit of analysis is going to be stories (number of percentage?), tweets (number?), public opinion (percentage?) for one or two years (2016-2017). Also we need more information about which are the independent variables that will be taken into account. In general the methodology seems as appropriate for the plan but needs further elaboration in the future".
Define agenda setting role of media, traditional vs new media, analyze literature
"In general, it is clear the author has analyzed some of the main contributions to the field, but there are some important shortcomings. There is not a discussion about which is the agenda setting role of the media, what we mean by that, why this is important, and which are the factors that limit the capabilities of the new and traditional media to develop this agenda setting role. (…) Accordingly, the theoretical part needs an elaborated discussion about the agenda setting role of the new and traditional media, highlighting the similarities and differences between the two and why this matters. To do that the author needs to analyze the literature about agenda setting taking into account authors like Norris to better understand the role of the media in a democracy, Graber and Iyengar to explain the agenda setting role of the media and the interconnection between different types of media outlets, Hallin and Mancini to better understand the media systems and why this matter (just to mention some of the most cited).
Add asocial movemente theory and atudy anti-corruption activist
"Suggest the author add an additional RQ / hypothesis about anti-corruption activists attempts to influence the mass media agenda, outside of social media (through meetings, petitions, protests, and so on). Do anti-corruption protests shift the mass media agenda? (…) The author may want or need to develop additional data (qualitative and/or quantitative) about attempts by anti-corruption activists to shift the mass media agenda. For example, a dataset of anti-corruption protests, by size/participation, and/or analysis of interviews with anti-corruption activists. (…) the dissertation might benefit from a section that engages significantly with the social movement studies literature. Specifically, there is a subfield of social movement studies that explores the ways that social movement actors attempt to gain access to mass media visibility, and in the context of the Spanish corruption cases, presumably this is taking place extensively. This introduces additional possibilities and questions about mass media agenda setting. For example: are there social movement actors who have personal friends among journalists, editors, and other members of the mass media? Potentially, they are meeting, lobbying, talking with, protesting, and otherwise attempting to shift the mass media agenda to cover corruption, NOT ONLY via social media but also through face to face methods, phone calls, petitions, meetings, perhaps direct actions, advertiser boycotts, and so on. Also: do anti-corruption protests shift the news agenda?"
Mejor conexión entre los ámbitos de la investigación
"Faltaría, en algunos casos, trabar mejor la transición o la interconexión entre los distintos ámbitos de la investigación. En especial faltaría una mejor/mayor justificación de la (supuesta) disrupción que hacen los medios sociales en el panorama informativo y su papel de contrapeso con los medios tradicionale. (…) La parte del impacto de los nuevos medios en el establecimiento de la agenda debería reforzarse para que no quede coja respecto al resto de marco teórico. Por otra parte, la retroalimentación mútua entre los viejos y los medios nuevos/digitales debería perfilarse mejor para poder acabar de definir la metodología".
¿Qué preguntas hacer a los datos pra no desbordarse?
"La metodología es muy robusta y utilizará sobre todo dos grandes fuentes de datos, extensas, objetivas y relativamente fáciles de manipular. En este sentido, el reto será saber qué preguntas hacerles a los datos – de las muchas posibles dada la riqueza de los mismos – para que la investigación no se desborde".
Falta mayor profundidad en el planteamiento
"Sí, los objetivos, las preguntas y las hipótesis son claras y fundamentadas en el debate teórico. Sin embargo, falta una cierta profundidad de planteamiento que se queda en lo descriptivo. Ciertas cuestiones de fondo quedan implícitas o marginadas, como si la polarización es mayor en las redes sociales que en los medios de referencia o si los casos de corrupción preeminentes en ambas esferas (redes digitales y medios convencionales) difieren en cuanto a sus protagonistas. La primera cuestión se relacionaría con las dinámicas de polarización que se atribuyen a la esfera pública digital y la segunda, con el control que se atribuye a las fuentes oficiales en la agenda de los medios convencionales de referencia y a los alineamientos político-edioriales que se han percibido en la prensa española. Se recomienda un mayor énfasis en estas preguntas para facilitar un debate académico que haga aportaciones más allá del caso de estudio nacional que ahora se plantea".
Falta autores españoles anteriores al año 2000
"La bibiliografía recoge en extenso las principales contribuciones en el orden teórico y empírico, en el plano nacional e internacional. Se echa en falta, sin embargo, el conocimiento y la referencia a obras de autores españoles anteriores del año 2000 y anteriores que abordan el tema de la construcción de la agenda y de los marcos discursivos tanto en la teoría como en análisis de casos".
Some related tweets
#colorcorrupción Hoy las portadas se llenan de Correa (y Dylan). El Mundo también lleva a a Jordi Pujol Jr y los ERE https://t.co/IQSj7UMEFZ pic.twitter.com/Edn2KcinNz

— numeroteca (@numeroteca) October 14, 2016
La declaración de Correa vista por @t_hoarder https://t.co/1DfdrRkDq5 pic.twitter.com/6P980KzDkx

— Mariluz Congosto (@congosto) October 14, 2016
Sigo buscando por si hay algún archivo público (o privado) con las grabaciones de los juicios de las #tarjetasblack y #gürtel ¿me ayudas? RT

— numeroteca (@numeroteca) October 12, 2016
Presencia que tuvo la sentencia del Supremo sobre las penas a los exdirectivos de Novacaixagalicia en las portadas https://t.co/K46zbcBtzr pic.twitter.com/JbaB0BLiwI

— numeroteca (@numeroteca) October 12, 2016