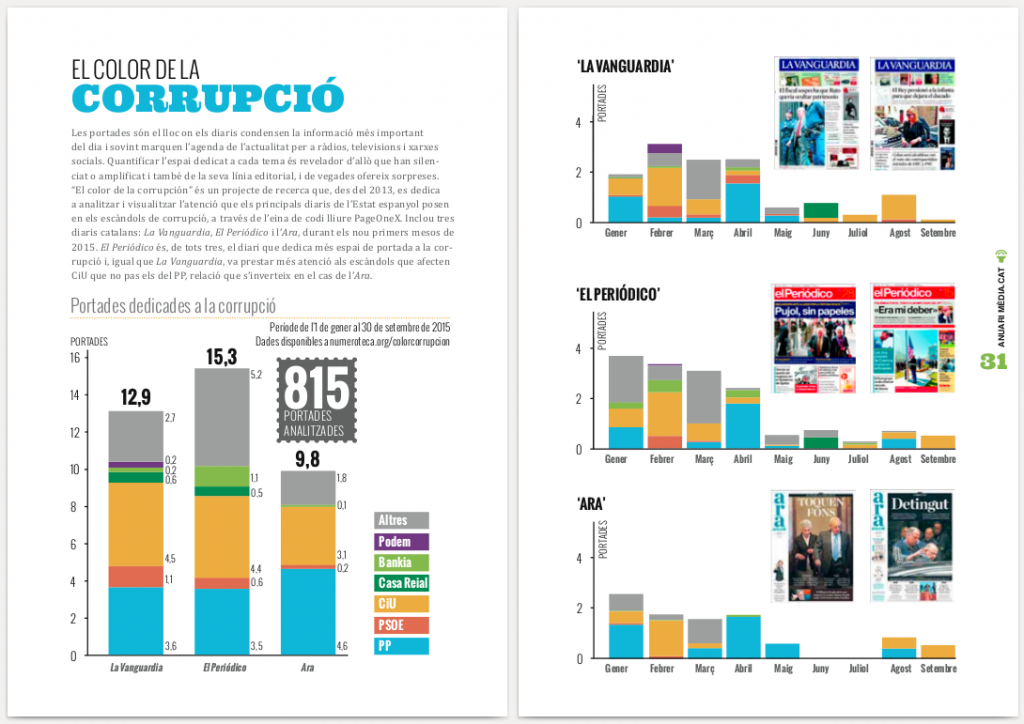 El Anuario de los silencios mediáticos 2015, que produce Mèdia.cat cada año, ha incluido datos de El color de la corrupción como unos gráficos de barras producidos por ellos mismo. El pdf del anuario completo se puede descargar de su web. Es una alegría que se les de uso a estos datos y un buen momento para recordar que todos los datos del proyecto están publicados en abierto.
Recientemente vi también que usaron también los datos en un artículo en revista científica: Podemos and Ciudadanos Shake up the Spanish Party System: The 2015 Local and Regional Elections (2016) de Toni Rodon y María José Hierro, South European Society and Politics:
"During the first months of 2013, news related to corruption scandals took, on average, 15 per cent of Spanish newspapers' front pages [note]. In April 2015, one month before the local and regional elections took place, each newspaper devoted 20 per cent of their front pages to news related to corruption".

Note: "The evolution of newspapers' front pages devoted to corruption scandals since 2013 can be found here: https://numeroteca.org/wp-content/uploads/2015/06/1505_mayo-corrupcion-elecciones.png. For more information about the project see: http://pageonex.com/"
Ante la ausencia de datos disponibles en formato libre y reutilizable sobre cobertura mediática El color de la corrupción está encontrando su hueco. Quizás hay que encontrar una mejor y más organizada forma para citarlo, de momento, como sugería a Mèdia.cat es poner un link a la web numeroteca.org/colorcorrupcion.